Our Director
Shri A Rajarajan, is a Distinguished Scientist and currently the Director of Satish Dhawan Space Centre SHAR (SDSC SHAR), Sriharikota, principle Space Port of India. Shri A Rajarajan is an expert in the area of Composites. As a Director of Satish Dhawan Space Centre his priorities is on fruition of Solid Motor Production and Launch Complex Infrastructure to meet the ISRO's increased demand of launches including Launches for Human Space Programme (Gaganyaan) and SSLV.
Shri A Rajarajan as Director, SDSC SHAR configuring & developing state of the art Solid Motor production and launch vehicle integration facilities for seamless production, integration and launching of ISRO's Satellite Launch Vehicle within a short span of time. Under his leadership exclusive launch complex for Small Satellite Launch Vehicle being configured & realized.
Shri A Rajarajan, before taking over as Director, SDSC SHAR, has held the responsibility as Deputy Director of various VSSC entities from time to time Viz., 'Propulsion and Space Ordinance Entity (PRSO), Aero Space Ordnance Entity (ASOE), Composites Entity (CMSE) and Structures Entity (STR)'. He has extensively worked in the area of design & development of composites products and played a pivotal role in developing many innovative technologies for the development of composites for Satellites & Launch Vehicle sub-systems.
During the year 2017, he was assigned an additional responsibility as Deputy Director of Propulsion and Space Ordinance Entity (PRSO), post PSLV C39 mission failure due to anomalous behavior of payload fairing separation system. He has steered the team with systematic review in addressing the issues & streamlined the ordnance system production methods & procedures for improving the reliability of the system along with improvement in analytical methods of systems. These systems enabled the improvements in reliable pyro separation system configuration in payload fairing and demonstrated successfully in subsequent launches.
Under his leadership as Deputy Director of Composites Entity, wide spectrums of composite products are developed like Solar Panel substrates, various types of Antennas, 5m dia. X 10.7m height Ogive Payload Fairing, intertank structure, etc.
Shri. A.Rajarajan took his Bachelor of Engineering in Mechanical Engineering in 1987 and joined Fiber Reinforced Plastic division of VSSC. He has lead his team in various capacity for development of many crucial Composite products which has paved the way for Composite Technology in Indian Industries for Space programme.
Shri A Rajarajan is also actively involved in playing a key role to bring many industries as partners of ISRO for development of key technologies.
He is a recipient of ISRO Merit award in 2015, ISRO Team excellence awards in 2010, 2011 & 2015. He is a member of several professional bodies, namely ISAMPE, AeSI etc.
He is considered as a very well-known speaker for his invited and plenary talks in many conferences on the subject of cutting edge technological application of composites.
He has several national and international papers in the area of composites.
OUR DIRECTOR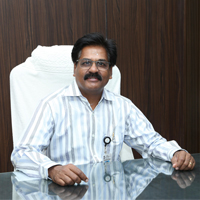 CLOSE